Sister Mary Virginette Chlebowska 1959 – 1965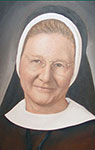 Sister Mary Virginette was the first director of the Immaculate Conception Junior College as Felician College was previously known. She served in this role as a member of the provincial administration of the Felician Sisters and it was one of many other duties related to the education ministry of the Sisters. Sister Virginette held degrees from Fordham and Villanova Universities as well as a graduate degree from the Jagiellonian University in Krakow, Poland. Sister Virginette was Provincial Minister and then Minister General of the Felician Sisters, serving in each position for 12 years. Noted for her charm, class, and brilliant intellect, she was always in demand as a speaker who was forceful and convincing. Sister Virginette possessed exquisite judgment, a healthy fearlessness, and impressive courage, always with deep faith and trust in the Providence of God. She did many magnificent projects without fanfare but always with élan and sincere dedication. While it is impossible to assess her total legacy to the Felician Sisters, the most significant in the galaxy of her achievements and a lasting monument to her expertise, acumen and foresight is Felician College which expanded from a Normal School into a Junior College and then to a four year liberal arts college under her tenure. Felician College became a reality because of her conviction that a Women's Catholic College had a critical role in the higher education community.
Sister Mary Justitia Lawniczka 1965 – 1977

Sister Mary Virginette once posited that Sister Mary Justitia, the second president of Felician College, knew where every nail and bolt was in the college buildings. As a member of the Provincial Council, Sister was actively involved in planning the construction and financing of the expansion projects on the Provincial House grounds: Immaculate Conception HS, Angela Hall, Our Lady of Lourdes Infirmary and last, but not least, Felician College and Library. Holding degrees in science from The Catholic University of America and a doctorate in biology from Fordham University, Sister Justitia began her service to Felician College in 1957 as the Dean of the Junior College even while continuing to serve on the provincial administration. Sister Justitia envisioned the expansion of the junior college into a four-year accredited college. Her outstanding talents and prodigious energies brought this dream to reality when in 1967 Felician College was authorized to conduct a full four-year program. Sister was a woman of great resources which saw her through the many struggles in the early days of the College, notwithstanding the historic floods of 1971 and the extensive damage to the campus. In an age of depersonalization and alienation, she helped to create a campus atmosphere in which interpersonal relations were characterized by gospel values, by family spirit, and where students were educated to achieve Christian fulfillment. She challenged the students not just to realize academic excellence, but to attain intellectual pursuits in order to face the moral imperatives of the age.
Sister Mary Hiltrude Koba 1977-1984

Sister Mary Hiltrude had a life-long dedication to education, holding degrees from Seton Hall University and a doctorate in Educational Psychology from Fordham University. Sister held numerous responsibilities at the College beginning her tenure in 1958 as the Registrar and Director of Admissions. When the College became a four-year institution, she was appointed Dean for Academic Affairs. Working closely with Sister Mary Justitia, Sister Mary Firmina Lajewska and Sister Mary Alma Pilarska, she incorporated lay women into what had been a normal school for religious sisters. She guided the Felician College Alumni Association and the College Guild. Her personal scholarly touch marked every aspect of her beloved College as she exhibited unflagging energy and devotion to its expansion in educational offerings in liberal arts, teacher education, nursing and medical laboratory technology. In 1977 Sister Hiltrude was inaugurated as the third president of Felician College, a position she held until 1984. She initiated the College's first capital campaign which resulted in the construction of the Child Care Center and Nursing Skills Laboratory. Continuing involvement in social welfare and civic initiatives exemplified her vibrant and living faith and love for people of all ages. After her presidency, Sister Hiltrude remained at Felician College as the Director of Development, then as a development officer and as a moderator of Older is Better. All told, Sister Hiltrude had had given her leadership gifts and talents to Felician College for 47 years of remarkable success.
Sister Theresa Mary Martin 1984 – 2012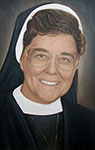 Sister Theresa Mary's 28 years of presidential tenure exceeded those of all her predecessors.
Coming to Felician College in 1975 Sister Theresa first served as the Dean of Student Affairs. Her superb personality, dedication to scholastic achievement, personablness, rapport, and deeply imbued pursuit of academic and cultural heights proved to be catalysts for the student body as well as for the faculty and staff. As President, Sister created a wide range of initiatives: introducing men into what was a women's college, initiating evening and weekend classes, and a capital campaign.  The capital campaign resulted in the renovation of the old convent into Kirby Hall. Distance learning education was incorporated into the curriculum and included two fully-online programs. She established off-site programs and initiated graduate education into every academic division.  Most significantly, Sister Theresa purchased the former Fairleigh Dickenson College in Rutherford, which added dormitories for residence students, a gymnasium, a little theater and a radio station.  The gym provided for the newly established sports program of ten women and men's NCAA, Division II sports. Always a proponent of "Students First," Sister Theresa spurred the faculty to find new and diverse ways to assist all students, but especially those most challenged, to reach their full potential. An enrollment increase from 400 women to almost 2,300 men and women, graduates and undergraduates was a significant part of a professional dynamo whose zeal "Sparked the Divine" in the students as well as in the professional faculty and staff for more than 36 years.